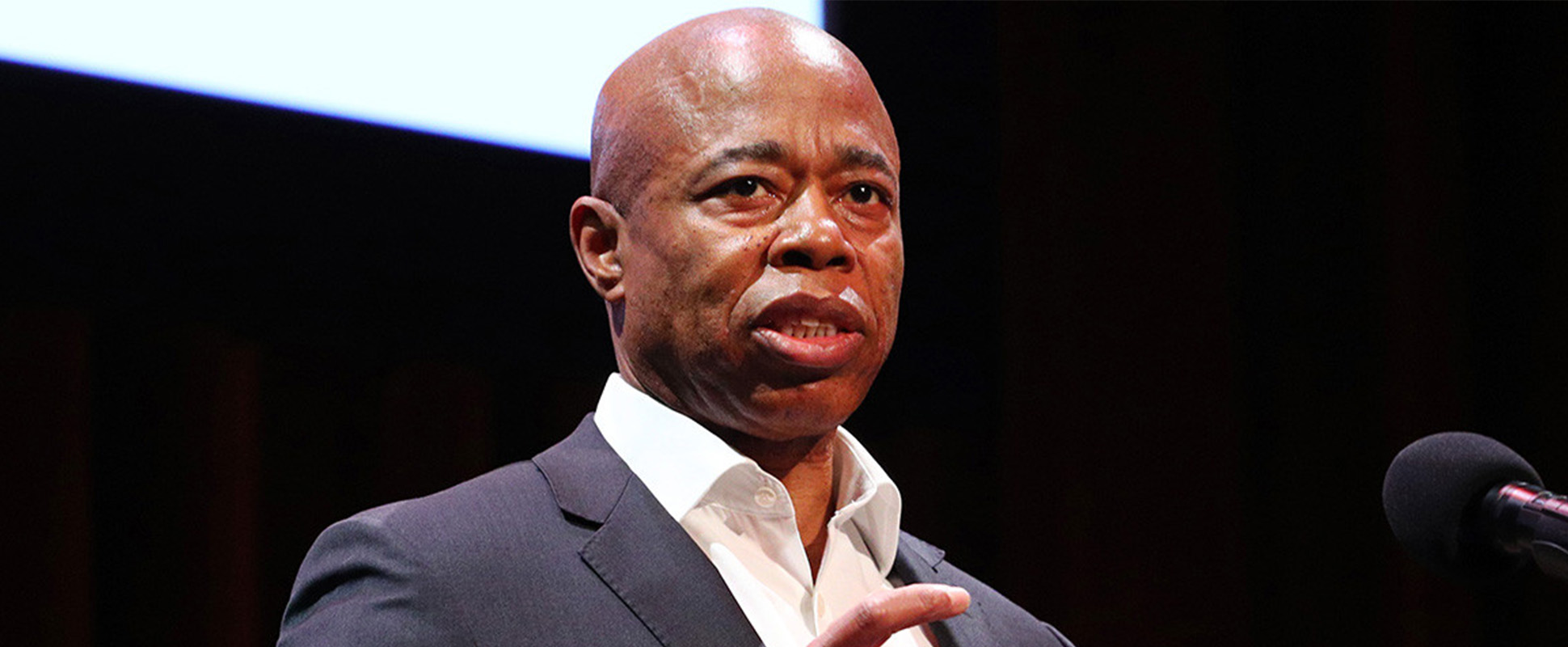 The group is being established as a "non-profit, non-partisan clearinghouse for great urban policy ideas and pragmatic solutions to chronic problems," according to a four-page memo.
NEW YORK — New York City mayors have long had outside operations to boost their platforms: The conservative think tank Manhattan Institute readily supported Rudy Giulinai's Republican policies. Mike Bloomberg used his personal wealth to spread his agenda beyond the confines of his office. Bill de Blasio established the Campaign for One New York, followed by embattled spinoffs, to bankroll his policy priorities locally and nationally.
Now an ally of Mayor Eric Adams is launching a similar organization connected to City Hall's new leader.
Tom Allon, publisher of local political website City & State, is raising money for a think tank that will align with the centrist agenda of a Democratic politician Allon counts as a longtime friend — though he vowed independence from the mayor.
A memo to potential donors, obtained by POLITICO, said the organization "anticipates evaluating a number of concrete policy ideas that were part of incoming NYC Mayor Eric Adams campaign platform and putting them through a rigorous academic analysis to assess their financial viability and ability to implement."
Despite his pledge of objectivity, Allon's ties to Adams run deep: A one-time mayoral candidate himself, the publisher spearheaded Adams' "mayor school" for several years to connect the former Brooklyn borough president to policy leaders and others interested in showing him the ropes. His son Jonah Allon is a deputy press secretary for Adams and previously worked as a press secretary in the City Council. He had a hand in arranging for Adams to dine with former Gov. Andrew Cuomo at Osteria La Baia earlier this year, according to someone familiar with the meeting. And just this month, Adams appointed Allon to the Panel for Educational Policy.
The think tank, which Allon named Five Boros Institute, is being established as a "non-profit, non-partisan clearinghouse for great urban policy ideas and pragmatic solutions to chronic problems," according to a four-page memo.
"After the devastation of the COVID-19 pandemic, New York City needs a forward-thinking, nimble and experienced think-tank that is able to convene major stakeholders from business, government, academia and to generate the most cutting-edge and practicable ideas available," reads the memo, which refers to the group's original title, the Five Boroughs Ideas Lab.
In an interview, Allon said he has raised $250,000 so far, and hopes to amass up to $1.5 million from private funders for the outfit's annual budget. He said he plans to release the names of donors once the organization launches.
"We're hoping that no more than 20 percent of our annual spend comes from any individual industry," Allon said, adding that he wants to avoid any perception that the venture operates as "a tool" for any particular sector.
Allon said he has received help from government fixture Dick Ravitch, who held the role of lieutenant governor and chaired the MTA and the Empire State Development Corporation. Ravitch has put up some of his own money for the venture and will co-chair the board with Allon. The publisher declined to name any other board members.
The think tank will be formally announced during a fundraiser planned for May 3 at the Roosevelt House Public Policy Institute at Hunter College, Allon said.
He also received help on the written proposal from an employee at consulting firm Tusk Strategies, which ran an opposing mayoral campaign for Andrew Yang last year. Two people familiar with the arrangement described the employee's role as unpaid and voluntary.
But some of the ideas included in the memo ring a familiar tone.
The think tank floated policy ideas in the areas of workforce development, education and budget efficacy. One proposal — developing a city-run system of "portable benefits" including health care coverage for gig workers and freelancers — was touted by Yang on the campaign trail.
The nascent group also suggested City Hall hire a chief revenue officer to "monetize the city's considerable assets" like parks and municipal buildings, revamp the city's gifted and talented programs, and turn New York into "the beacon of training the next generation of digital security warriors," according to the memo.
It also showed alignment with the new mayor's early interest in cryptocurrency, following his decision to convert his first three paychecks to Bitcoin. "How do we leverage our growing tech sector to innovate our city government through blockchain and other technologies?" the memo reads.
Tusk has a burgeoning cryptocurrency practice.