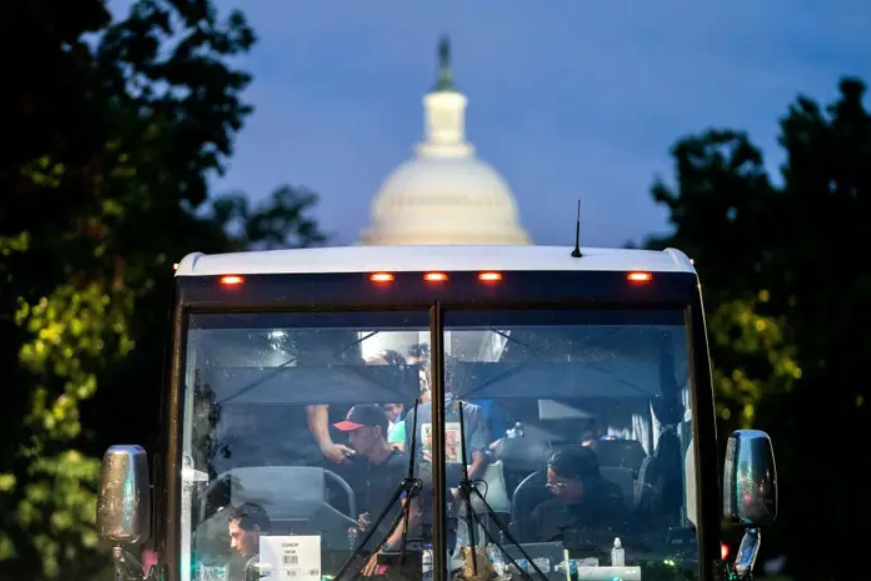 Read the full story on Gothamist. Photo by Stefani Reynolds / AFP via Getty Images (source: Gothamist).
—
Excerpt:
On Tuesday, Gov. Kathy Hochul said conversations with legislative leaders about granting work authorizations at the state level are in the works, pending federal approval. Multiple state lawmakers and a new city think tank, the 5Boro Institute, have also offered variations of work permit ideas through state legislation and city initiatives.

"The playbook we've been using for more than a year on the migrant crisis isn't working," said Grace Rauh, executive director of the 5Boro Institute, a nonpartisan public policy think tank.

Rauh suggested that Adams bring the same level of ingenuity as Gavin Newsom, the current California governor who became a national figure in 2004 by defying California state law and issuing marriage licenses to gay couples in San Francisco while he was that city's mayor.

"It sent a powerful message to the country that this is the right thing to do," said Rauh. "I think that's a great example of a mayor stepping up."

While Rauh said her organization fully supports additional efforts to address the migrant crisis at the federal and state level, she added that there is untapped potential for finding interim solutions here in the city.

"If the state can't get it done, we think the mayor needs to step up here and figure out a path forward," she added.