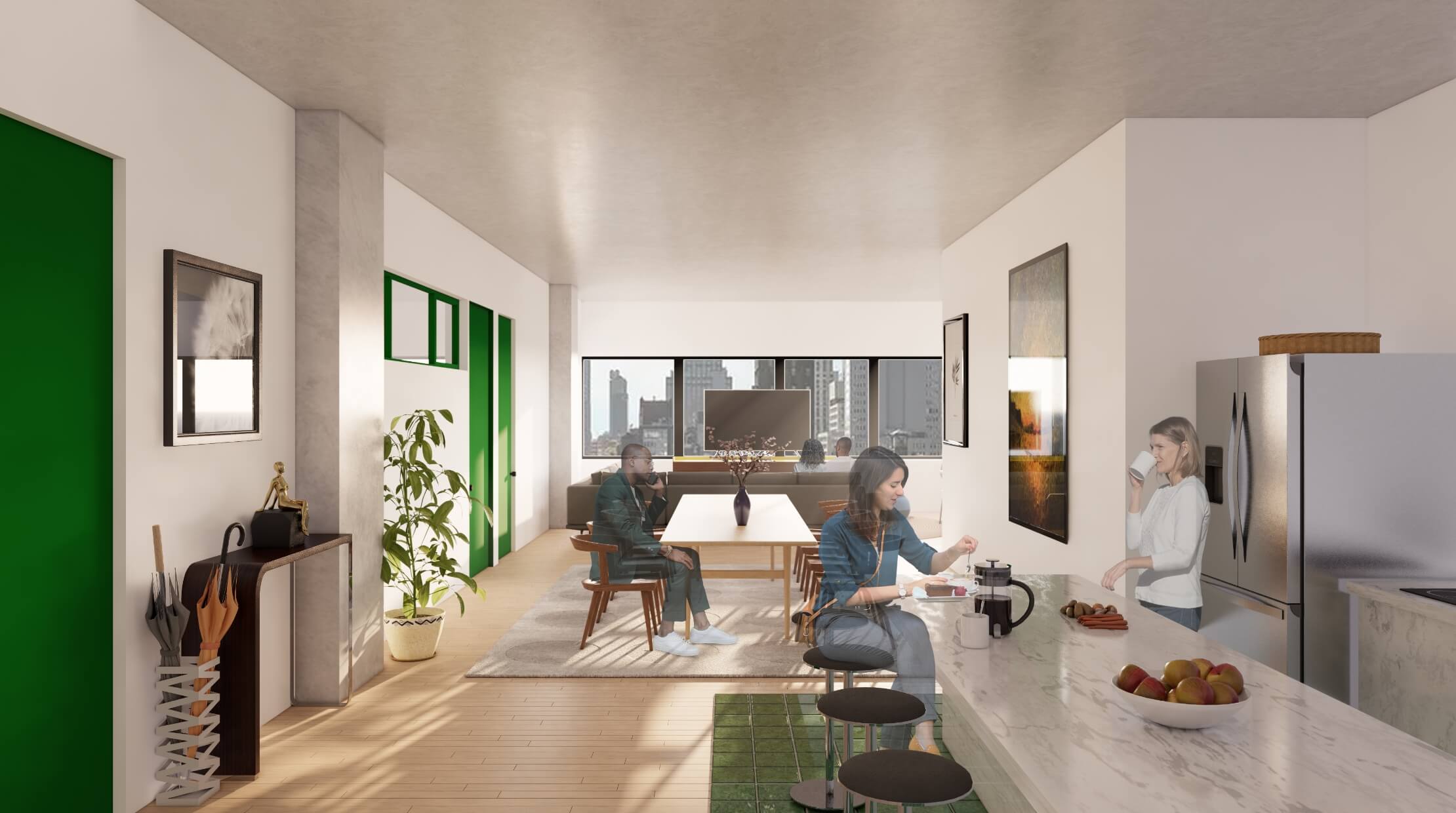 IMMEDIATE RELEASE
Press Contact: info@fiveboro.nyc
New York, NY — Today, the 5BORO Institute released its report, Flexible Co-Living: Advancing a New Housing Model for Office-to-Residential Conversions in NYC. The report proposes a new housing model, called Flexible Co-Living, that eases barriers to housing development and helps provide a viable path to make office-to-residential conversions more affordable for tenants and developers.
New York is tied for first place in a global ranking of the most expensive cities in the world, and exorbitant housing costs have contributed to half of working-age households in the city struggling to afford to live here. At the same time, there is a staggering 103 million square feet of available office space in Manhattan, and vacancies are expected to grow as multi-year leases are not renewed due to the rise of remote work. 
Office-to-residential conversions are an obvious path forward to address both issues. However, to comply with existing housing regulations, office conversions typically require the installation of costly architectural interventions with long construction timelines. As a result, office-to-residential conversions in New York City can carry price tags in the billions of dollars, which has contributed in part to luxury rents for these units, which are not affordable for most New Yorkers. 
Flexible Co-Living is a creative approach to add more housing — and more affordable housing — to the city and boost struggling business districts with an influx of new residents. The following are benefits of the model:
Creates housing at more affordable rents

Addresses the housing shortage by producing more units

Provides opportunity to cost-effectively subsidize low-income units

Boosts struggling commercial districts

Lowers construction costs

Increases diversity of housing options

Brings new life to at-risk and underutilized buildings

Provides sustainability and climate benefits
Flexible Co-Living combines three unique design elements — office-to-residential conversions, co-living, and interior window flexibility — as office buildings have layouts, configurations, and regulatory requirements that are vastly different from those in residential buildings. The model would allow New Yorkers to rent individual bedrooms and use shared kitchens, living rooms and bathrooms in office-to-residential conversions. These units are anticipated to produce a more naturally affordable housing option that has the potential to provide deeper affordability for tenants through government subsidies and incentives. 5BORO recommends New York City government pilot Flexible Co-Living through a competitive request for proposals for buildings in commercial districts.
"We need bold and creative housing solutions to address the two converging crises of housing and struggling business districts," said Grace Rauh, Executive Director of the 5BORO Institute and an author of the report. "With millions of square feet of office space sitting empty and hundreds of thousands of new residences needed in our city, now is the time to innovate and test out new approaches to housing. Flexible Co-Living will equip government and housing developers with a new tool to create tens of thousands of new places for people to live at more affordable rents."
Flexible Co-Living combines components that have been proven in NYC, are growing in popularity across the world, or are adopted from other cities in the U.S. 5BORO has conferred with over 50 housing experts, advocates, developers, lawyers, architects, government officials, and elected leaders across New York City and in other jurisdictions to refine this model and its pilot proposal. As cities across the country grapple with how to turn around languishing downtown office districts, New York can lead the way out of a "doom loop" scenario with Flexible Co-Living.
This report was made possible through the generous support of TD Bank.
"We're thrilled to support the important work the 5BORO Institute does to research and recommend innovative solutions to address the critical need for affordable housing in New York City," said Paige Carlson-Heim, Director of the Office of Charitable and Community Giving at TD Bank. "At TD, we are dedicated to supporting organizations focused on creating solutions to enable and empower all community members – including the most vulnerable population – to succeed. Access to affordable housing is critical to our efforts to create a more sustainable and inclusive future for all, and we're excited to work alongside 5BORO to drive meaningful change across the city."
"There is no better time to take creative and decisive steps that will address the dual crises of New York City's housing shortage and unprecedented office vacancies," said Erika Tannor, Vice Chair of the 5BORO Institute. "The 5BORO Institute's deep dive into office to residential conversions presents a smart model for how we can build safe, beautiful and affordable Flexible Co-Living housing stock. We commend Mayor Adams' administration for launching its Office Conversion Accelerator and look forward to working together to achieve a bold housing vision."